Our Global Product Range!
CarPlan Ultra offers a complete range of quality car care product at a mid market price level. With products for both interior and exterior care, CarPlan Ultra is specially designed for drivers who require high quality products at affordable prices.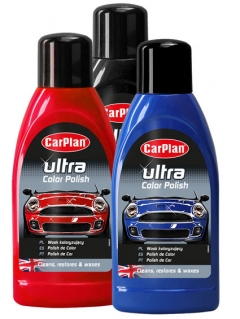 Ultra Color Polish
Cleans, restores and waxes
CarPlan Ultra Color Polish effectively cleans, restores and waxes car paintwork. It guarantees a brilliant finish and protects paintwork from weathering and road grime. Suitable for all paint finishes, even metallic.
| Colour | Size | Part code | Barcode |
| --- | --- | --- | --- |
| Silver | 500ml | POL108 | 5010373044902 |
| Black | 500ml | POL109 | 5010373044919 |
| Red | 500ml | POL110 | 5010373044926 |
| Green | 500ml | POL111 | 5010373044933 |
| Blue | 500ml | POL112 | 5010373045213 |